Raffinee A. J. Gonzalez
Raffinee is a native of San Diego, Ca and has made Atlanta his home for the past 18 years. While in Atlanta, he has watched the real estate industry fluctuate with highs and lows. With over 12 years of sales experience and 5 + years of real estate investing experience, Raffinee takes on each client and each situation with a fresh perspective to find dynamic ways to help home owners and fellow investors achieve their goals. Raffinee teamed up with his wife Deanna, to formulate Centric Real Estate Group with the goal of providing a knowledge filled, integrity backed, seamless real estate experience for each and every client.
Shaleka Cox
Shaleka Cox is the brains behind all things real estate. As an Athens, Ga native, Shaleka has in depth knowledge of the many cities all around Georgia. Shaleka completed her Graduate degree in Criminal Justice and decided to pursue her lifelong passion of real estate as her full time profession. "All facets of real estate makes me happy", says Shaleka.
Her background includes over 8 years of experience in real estate with specialities in property management, leasing, investment properties, home renovations and marketing.Shaleka's expertise and passion for real estate help her educate clients on the home buying process and effectively market home listings. Whether you are seeking to buy, sell, or invest in real estate, Shaleka is your girl.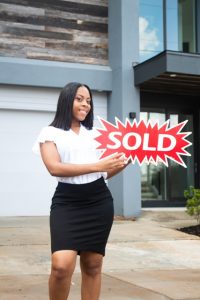 Teonta Peagues
Teonta is an amazing addition to Centric Real Estate Group. Teonta comes with specialized experience of working with veterans and first time home buyers and introducing them to the world of home ownership.There is no transaction too big or too small for this hungry professional.
Teonta lights the room with her smile and always has top reviews from
every client that she works with. While she ensures quality service, she makes sure that she fights on behalf of all of her clients.
Teonta was born in Birmingham, AL and currently attends Kennesaw State University where she is currently majoring in Software Engineering. After working in the sales industry for several years, she discovered her true passion in Real Estate.