As an award winning Realtor ® and Broker/Owner of Centric Real Estate Group, Deanna's daily business activities include counseling first-time home buyers as they tackle one of the biggest milestones in their life (home ownership), marketing homes and educating new investors on how to purchase their first investment property.
With over 16 years as an accomplished realtor and investor, Deanna's knowledge for the market, negotiation skills and integrity is by far unmatched.
"My professional background in Corporate America has proven to be invaluable," says Deanna. "Managing executives of Fortune 500 organizations and two corporate rebranding's and an Emmy throughout my career, have taught me analytical processes in order to properly manage a successful company, and understanding how to communicate with my customers to show them RESULTS."
My passion for real estate and empowering others to find their dream home has since steered me to create a resourceful tool that will assist buyers, sellers and investors during their greatest milestones. Through support and education, we are here to teach you how to confidently tackle the home buying or selling process.
If you have questions such as, "Why do I want to buy a home? What's important for my future? How can I stay focused during the home buying process? or screaming, "It's too much information to remember!!!" Then you need a Milestone Manager Planner to guide you during your journey to homeownership –whether you are a first, second or third time homeowner, staying organized is essential. The Milestone Manager Planner is simple, chic and easy to navigate.
"You can count on me to give you the most insightful information, to help you make the best decision and manage your Milestone of finding the perfect home."
Raffinee A. J. Gonzalez
Raffinee is a native of San Diego, Ca and has made Atlanta his home for the past 18 years. While in Atlanta, he has watched the real estate industry fluctuate with highs and lows. With over 12 years of sales experience and 5 + years of real estate investing experience, Raffinee takes on each client and each situation with a fresh perspective to find dynamic ways to help home owners and fellow investors achieve their goals. Raffinee teamed up with his wife Deanna, to formulate Centric Real Estate Group with the goal of providing a knowledge filled, integrity backed, seamless real estate experience for each and every client.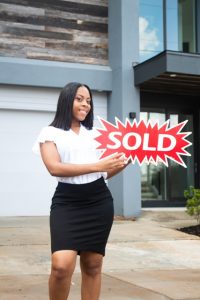 Teonta Peagues
Teonta is an amazing addition to Centric Real Estate Group. Teonta comes with specialized experience of working with veterans and first time home buyers and introducing them to the world of home ownership.There is no transaction too big or too small for this hungry professional.
Teonta lights the room with her smile and always has top reviews from
every client that she works with. While she ensures quality service, she makes sure that she fights on behalf of all of her clients.
Teonta was born in Birmingham, AL and currently attends Kennesaw State University where she is currently majoring in Software Engineering. After working in the sales industry for several years, she discovered her true passion in Real Estate.